Hi, I'm Alana with Hospitality Nest.
I have a personal question for you (I know we just met… sorry, not sorry). Do you actually like the life you are living at home right now? If you are not a definite "yes"… I can help. I offer ways to make the things you want + need to do at home more simple so you can enjoy coming and being home. I cover cooking, gardening, houseplants, cleaning, organizing, and home styling.
For years, I've shared my hospitality expertise with customers in my retail store offering tricks, tips, and hacks to make their everyday lives at home easier. Now, you'll have access to all this same knowledge in a warm, welcoming Facebook community and user site. PLUS you'll have access to me, your hospitality expert, to answer your questions and offer inspiration related to "all things home." Sure, you can wander the web for answers to your questions. But, why? You have the power to have a hospitality expert at your fingertips!
Let's get right to the point: I help women overcome the stress of everyday life in their homes. Whether it be cooking, cleaning, gardening, organizing, or chores… I ­will help you find the answers you need to simplify tasks & inspire you. Imagine, your time spent at home being enjoyable, not stressful! YOU deserve to LOVE coming and being home. 
Most of us are home more these days, not necessarily by choice. Why not make the most of it? Imagine, you can come out of this situation better. Your life at home can look more like YOU want it to look because YOU made the choice to connect + get help.
HERE'S HOW IT WORKS. Hospitality Nest has two main pieces: (1) an exclusive Members-Only Facebook Community and (2) the Member Dashboard (this site). Between the resources you will access in your Member Dashboard & discussions in the Facebook Community, you're sure to feel on top of everything. Hospitality Nest is all about building a community where women can share ideas and get help in a warm welcoming environment.
Check out some featured topics in your member dashboard below: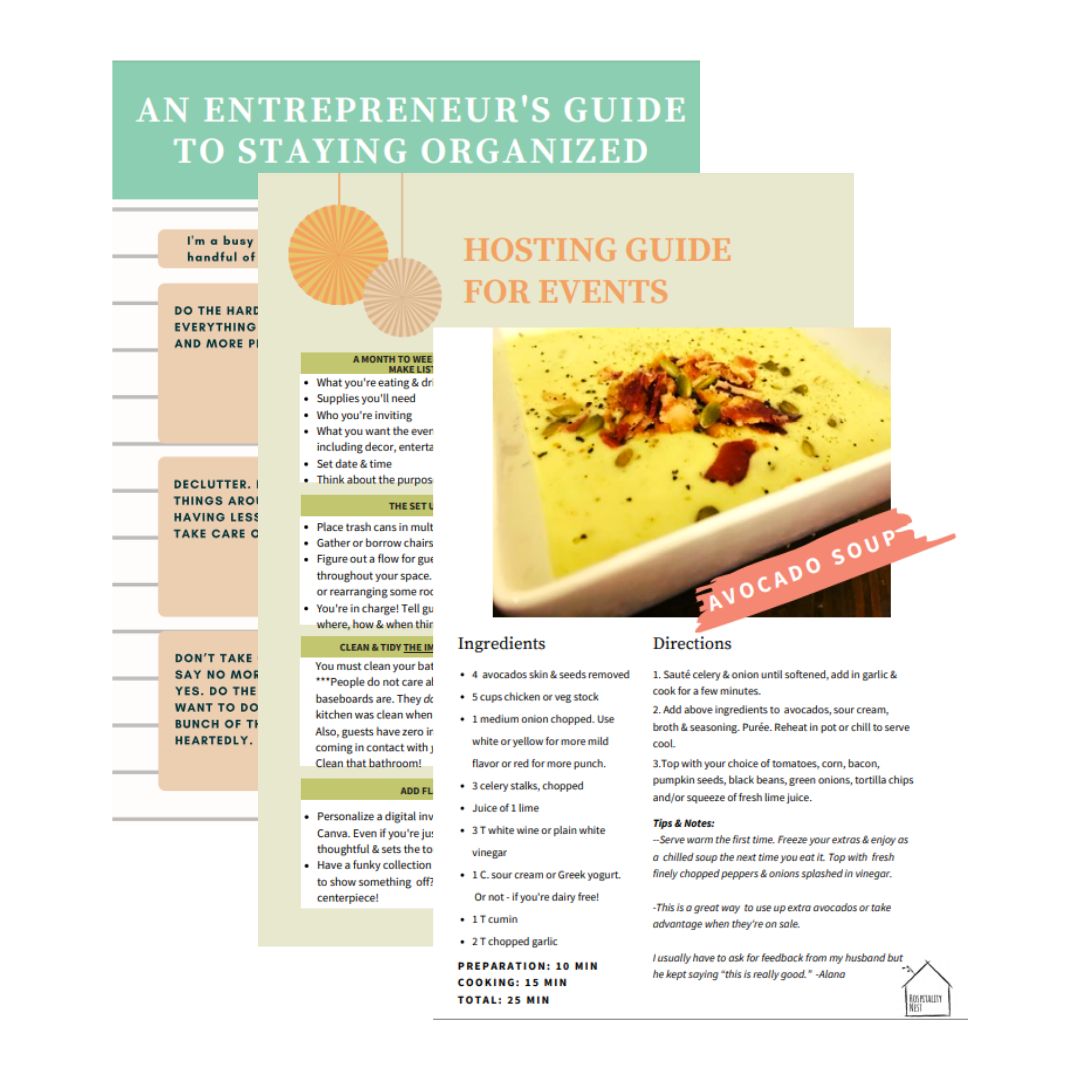 Some of the resources in the Nest are:
Tips For Personalizing Your Design Style
Recipe: Disappearing Cabbage
5 Things You Can Do In Less Than 30 Min For An Organized Kitchen
30 Day Minimalist Challenge
How To Save and Stretch Your Food
Recipe: Infused Water
Outdoor Scavenger Hunt
How To Meal Prep
7 Easy Tips For Tough Kitchen Messes
Easy Container Gardening
Recipe: Champagne & Bucha
PLUS you can literally ask me (your personal hospitality expert) anything related to cooking, houseplants, organization, personal design style, or gardening in the Members-Only Facebook Community.
The details:


Your $10 monthly subscription includes:
Access to the Hospitality Nest Members-Only private Facebook community to connect with like-minded individuals who have the same obstacles and goals as you.

Ex. You might ask, "Alana, I have 8 people coming over for dinner and no time to shop and little time to cook. What should I make?

Free downloadable resources like recipes, time-saving, life-improving hacks and more. 

Access to me, YOUR hospitality expert - an expert in the area of "everything home".

Monthly live Q & A - Thursday Night Hang to ask your questions "all about home."

Guest experts on special topics for improving your everyday life and beyond.

Access to the,

Yes, You are Magic and You Can Create Time -

20 minute guide to getting you more time back so you can enjoy your life at home!


If you put this information into action, you'll experience…
Less stress at home because you'll have learned how to GET MORE TIME BACK IN YOUR DAY

Less Googling for resources or spending hours scrolling on Pinterest

Up-to-date information, no more 8-year-old YouTube videos!

No more spam-ridden blog posts

More straight-forward resources. Ever searched "vegan recipes" and come up with recipes laden with meat?!

Experience little moments of joy in your day because you'll love the life you're creating

Living the lifestyle you truly desire, THAT is something that you can't place a monetary value on!
The Hospitality Nest is for you if you experience any of the following:
You're seeking to connect with people who have the same obstacles and goals as you

You want more time back in your day

You want a well-kept home

You are sick of DIY reality shows making everything look easy, cuz that isn't reality!

You are seeking inspiration for

execution of

and

ideas for

meal prepping

You feel like a plant murderer

You have given countless hours of your life to Pinterest when all you were trying to do was find a simple recipe or tutorial

You want to be able to can come home from work and actually relax

You can't make that pile of clutter go away

You want your home to be "company ready" at any time

You miss connecting with real people. Because, COVID 19

You have nagging craft/DIY projects you just can't seem to execute

You are not feeling "fulfilled" by or having fun with the things showing up in your feed, and you're ready for something different

You care about where food comes from

You want a greener lifestyle

You have tapped out Google and are seeking information from real people

You want to be the

best

plant mom ever

You want to be more thrifty, whether that's out of necessity or you're saving for vacay

You want to feel like your space reflects your personality

You care about your health and general state of wellness

You are "about" taking care of the people in your life

You want to get to know yourself better

You want your home to be a place where you do more of the things you love

You like or want to be better at some of the following: crafting, cooking, being outdoors, interior design, or gardening. 

To name a few :)
Take a virtual tour of the Hospitality Nest!
I love helping people #livetheirbestlife at home, for real! Why would you want me to help you? I have a degree in Hospitality Management, co-own/run a specialty food store + greenhouse (link to sister site at the top of the page), and have experience in the interior design + plant + hospitality industries for a cumulative 15 years of experience.
As a result, I'm overflowing with ideas about how to help you with "everything home." I'm confident you'll be inspired to take the info I share to make your everyday-life look more like you want it to.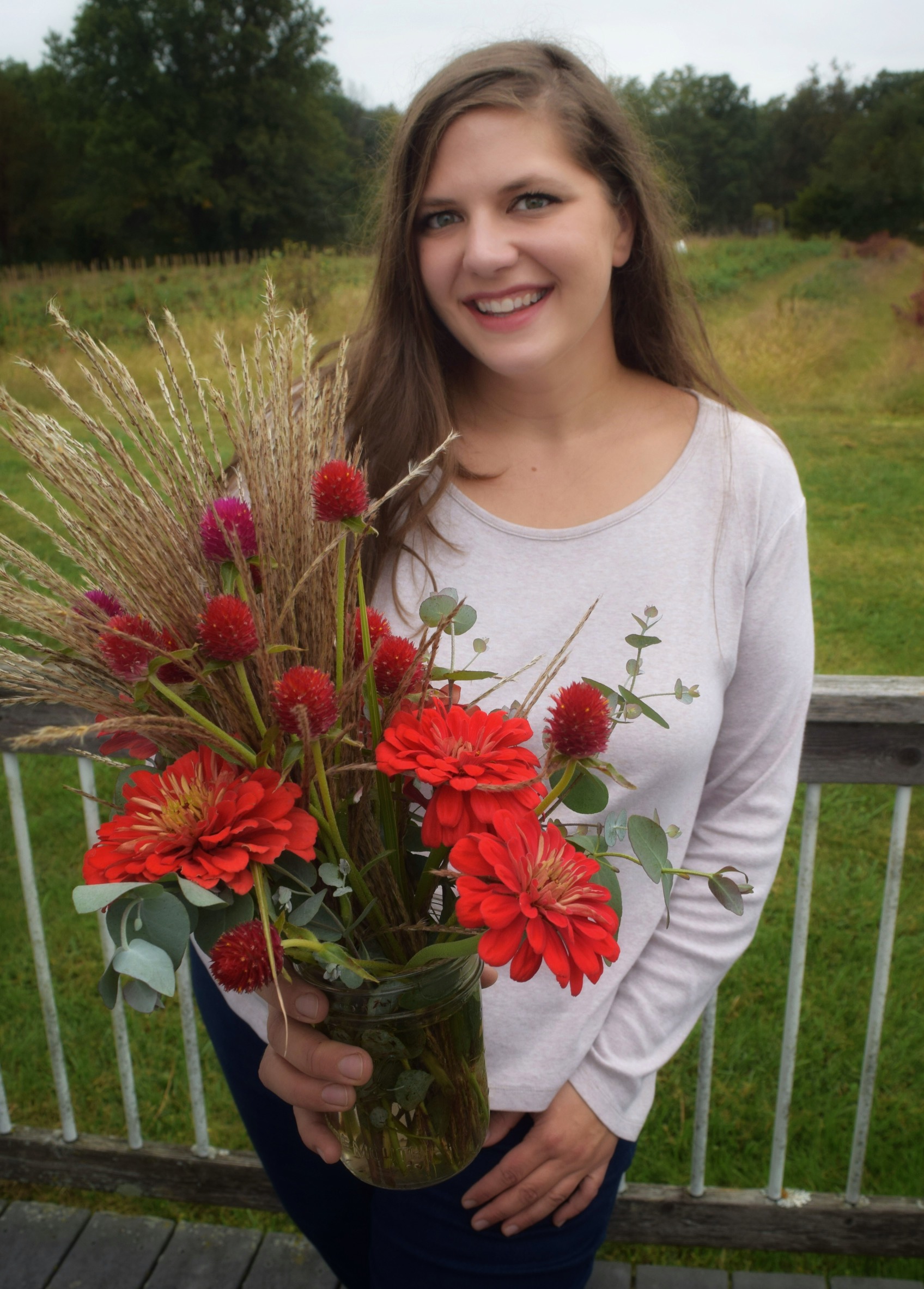 Here's what people are saying:
Whether it be gardening, pairing the right herbs with my recipes, or even simple organization tips, Alana is a one-stop-shop when it comes to all things around home + garden! She has a solution for every obstacle I have faced and she is motivated to help me in any way she can. She is also very direct and to the point. My kind of person!
- Natalie U.
"I can ask you a question about how to care for plants, how to use ingredients in my cooking, and how to use this-or-that mystery ingredient. You always have the most fun ways to go about using ingredients."
-Kathy H.
"Your cooking and veggie prep tips are LIFE CHANGING!"
Allie B.
Alana is hands down my GO-TO for anything plants, cooking, unique food + spice pairings, and just overall, how to take care of my home. She is so knowledgeable + I love how straight-forward she is. No time for extra unnecessary fluff here + I just love it! :)
- Taylor T.
Alana is amazing!! I have been purchasing from her for the past few years at her retail store: Sugar Grove Growers since moving back to the area. She is extremely knowledgeable and always eager to serve her customers + community. I especially love the variety of plants + flowers that are available each year. It never fails that I receive many compliments on my flower pot arrangements. They always seem to make it through our summer heat just fine.
- Marlene R.
Frequently Asked Questions


But can't I just google these things that I need, for free?
You absolutely can. But let me ask you these questions:
Have you ever read an article or pin on Pinterest then had a million and one questions about actually implementing it? In the Nest/Facebook Community, you have access to ask me all the questions. I'll be answering them M-F.
How many times do you find something and not do it because #lifehappens? Yup, I get that. If you join the Nest, you are getting that added layer of accountability.
Also, do you agree that multiple brains are better than one? Totally, me too. In addition to all my ideas and knowledge, you'll have a go-to Facebook Community of like-minded individuals to bounce ideas off as well.
You might be wondering what makes information coming from me (Alana) soooo special? Y'all, I live this life for real, and love it. It has taken me years to gain all the knowledge I have about cooking, gardening, cleaning, organizing, and home décor. You deserve to spend your time how you want, not questioning whether the information you get online is actually "good." I got yo back!
And lastly, will you actually google what you need and make it happen? Sometimes we have the best intentions for following through, but it just doesn't happen. With some skin in the game ($10/month), access to me to help you, a community of individuals doing it too, and a dashboard full of the resources you need, you're sure to see the success you're desiring.
What do I need to join?
Just a desire to make your everyday life better, internet access, and a Facebook profile (if you want to interact in the community).
Will my price go up? Even if it goes up to the public?
Nope. Whatever price you are paying at the time of your enrollment is the price you will pay for life. If you cancel, then rejoin at a later date, it will be subject to the price at that point.
What if I join and find out that the Hospitality Nest is not for me?
No worries. While I believe you will LOVE the Nest, I understand that sometimes things aren't for everyone. I don't want you to get stuck in something if it's not for you so I offer a 30-day money-back guarantee in case it's not a good fit for your needs.
What if I want to cancel my membership?
You absolutely can cancel at anytime. You are not locked into any contract or amount of time. If you did subscribe to the yearly option, then it will cancel at that year mark.